Magnesium Lotion Lavender with Arnica + Willowbark Extract 100ml
Eucalyptus, Rose Geranium, Lemon Myrtle and Lavender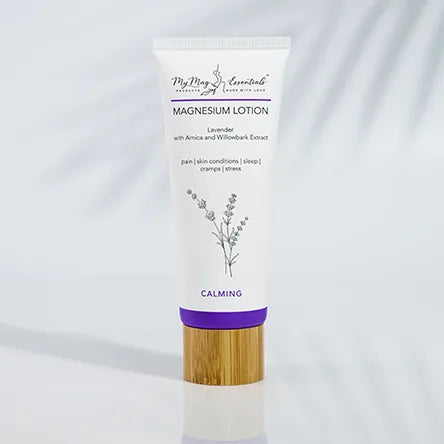 My Mag Essentials
Magnesium Lotion Lavender with Arnica + Willowbark Extract 100ml
Lavender
Magnesium
100ml
$34.95 AUD
You Deserve To Be Stress & Pain-Free
Relieve your signs & symptoms of a magnesium deficiency as our lotion boosts your body with the daily dosage of magnesium it needs. 
  High Quality Magnesium for Improved Health
  Safe & Gentle for Adults & Children 
  Perfect for Men & Women Athletes
Use the Magnesium Body Lotion on your Body to give yourself the well-being you deserve.
  Trans-Dermal Delivery For Fast Relief
  Relieves Sore & Tired Muscles 
  Relaxes Nervous System
  Relieves Headaches
  Combats Insomnia & Restless Legs
Becoming Pain & Stress-Free Should Be Easier
Step 1: Select Size/Style & Add To Card
Step 2: Apply To Body & Wait 30 Minutes For Absorption
Step 3.
Relieve Pain & Stress
Feel Better.
Lavender: pure and high quality of essential oil with an array of benefits for the skin. It eliminates nervous tension, relieves pain, enhances blood circulation, is calming, sleep-inducing, a disinfectant, anti-inflammatory, antifungal and antiseptic.
INGREDIENTS:
Aqua, Magnesium Chloride, Cetearyl Alcohol & Glyceryl Stearate & Coceth-20(Coconut Emulsifier), Cocos Nucifera (Coconut) Oil, Aloe Barbadensis Leaf Juice, Butyrospermum Parkii (Shea Butter), Glycerine, Arnica Montana Flower Extract, Salix Nigra (Willow) Bark Extract, Hydrogenated Vegetable Oil, Lavandula Angustifolia (Lavender) Oil, Geogard ECT, Acacia Senegal Gum, Xanthan Gum and Tocopheryl Acetate (Vit E)